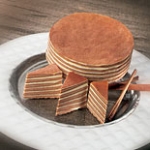 Have been a little bit too busy the last week, not even time to blog...
Today just a quick blog. I'd love to share one of my favorite cakes: the Spekkoek (Lapis Legit)

A legacy of Dutch colonialism, this "thousand layer cake" is often served after the 'rijsttafel' but will do equally well served with the coffee or tea. This is a very rich cake and should be served in thin slices.

Ingredients:

225 gr butter, softened
230 gr sugar
10 large eggs, separated
pinch of salt
150 gr flour
2 tablespoons confectioners (icing) sugar
Spice mixture: 2 teaspoons cinnamon. 1 teaspoon ginger. 1 teaspoon aniseed. ½ teaspoon nutmeg. ½ teaspoon cardamon. ¼ teaspoon cloves. ( all spices are ground )

Preparation:

Cream butter and sugar together with an electric mixer. Beat in eggs yolks a few at a time. In another bowl, using clean beaters, beat the egg whites with the salt until stiff. Fold into yolk mixture. Fold in sieved flour. Divide batter between two bowls. Add the spice mixture to one bowl and mix in well. Line the bottom of a buttered 9" (25 cm) round cake pan (or springform pan) with wax paper and butter the wax paper. Pour about ½ cup of the spice batter into the pan, spreading to form a thin (about pancake thickness) layer. Place pan under a preheated broiler (oven grill) for 2 minutes, or until the layer is firm and very lightly browned. Spread ½ cup of the plain batter over the top and broil until firm. Repeat layering and broiling until all batter is used. Let cake cool, then remove from pan. Sprinkle top with confectioners sugar. Serve in thin very slices.
Bom apetite!